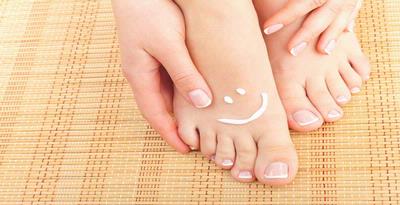 shutterstock
Legs are included in the body which can reflect the overall condition.
The feet are always cold, for example, can be caused by poor blood flow, a circulatory disorder caused by hypertension or smoking hobby.

Nerve damage due to uncontrolled diabetes can also cause cold feet.
Other causes of hypothyroidism and anemia.

Check out other health problems that can be seen from the foot:

- Leg pain
If the leg pain, maybe you will immediately blame the high heels.
But there are other causes that are less recognized, namely a high-impact sports such as basketball or too intense run.
Condition of brittle bones due to osteoporosis also increases the pain.

- Toes red, white and blue
Raynaud's disease can mmebuat toes turn white, then blue, red and back again.
The cause is narrowing of the arteries called vasospasm.
The disease is also associated with rheumatoid arthritis or thyroid disorders.

- Changes in gait
Sometimes the first symptoms are less aware of the changes in gait.
Usually normal sensation triggered by the reduction in leg slowly due to nerve damage.
About 30 percent of these cases due to diabetes.
Nerve damage can also be caused by infection, lack of vitamins and alcohol addiction.

- Change your toes
Visible changes such as nail slightly rounded on top and curved downward.
Lung disease is often the cause, but can also be triggered heart disease, liver disease, and infection.
Yet there is also a hereditary factor.
- Swollen feet
Usually triggered by prolonged standing or sitting too much like the long-distance aircraft.
But if the foot is always swollen to suspect the existence of impaired circulation, lymph or blood clotting disorder.

- Burning feet
Burning sensation in the legs often experienced by patients with diabetes who have peripheral nerve damage.
It could also be due to vitamin B deficiency, chronic renal disease, or hypothyroidism.

- Hard to heal ulcers
Ulcers on the feet that are difficult to heal the main symptoms of diabetes.

- Pain in the thumb
Uric acid or gout often causes sudden pain in the joints of the foot, accompanied by swelling and redness.
Other causes such as osteoarthritis.

- Itchy Feet
Itching of the skin can be caused by athlete's foot disease, fungal infection that often affects men aged 20-40 years.

- Crooked toes
Deformities or toe shape changes caused by the most narrow shoes.
Other causes, although rarely are nerve disorders such as diabetes.

- Nails yellow legs
Fungal infections can cause the cookies become hard and yellow legs.
Can also be caused by pulmonary disorders or rheumatoid arthritis.
source : http://health.kompas.com