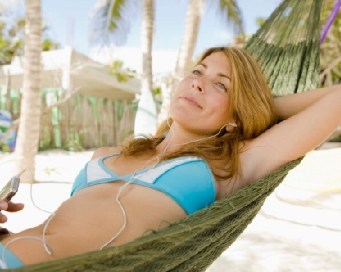 3 Steps Make Breast Beautiful & Firmness
No doubt every woman wants beautiful breasts and tight. Because of the breasts can affect the appearance and confidence.

Origin diligent care and exercise to tighten breast, breast forms that can be immediately obtained desirable. Reporting from OurVanity, here are some tips to get beautiful breasts.

1. Exercise for breast
Push ups are a useful exercise for the chest. The tip is, Squeeze your elbows to the body during push-ups, to press for firmer breasts.

Take the dumbbells and lie down. Fold your knees and lift the dumbbells simultaneously. Then lower your hands slowly. Repeat 10 times.

2. breast massage
Layer of skin that encloses the breast very thin and do not have a lot of moisture. So it is important to keep the humidity so as not to wrinkle and dry. Hydro massage can be a solution to prevent the appearance of wrinkles in the chest. The trick, your chest massage clockwise with a thin towel dipped in cold water. Do it for 10 minutes. Give special attention in the area below the crease between the chest and armpits and chest.

You can also massage with milk that had been frozen in the refrigerator. Massage the breast with a piece of small blocks of ice milk slowly and gently.

3. breast mask
mash 1 banana, add 2 drops of olive oil and rub on the chest for 30 minutes. Rinse with warm water.

Masks refresher: orange peel and mash and mix with egg white. Apply on chest, neck and shoulders. Cover with towel and let stand for 15 minutes.

Moisturizing mask: grated fresh cucumber and apply on the skin of the chest.
(wolipop)